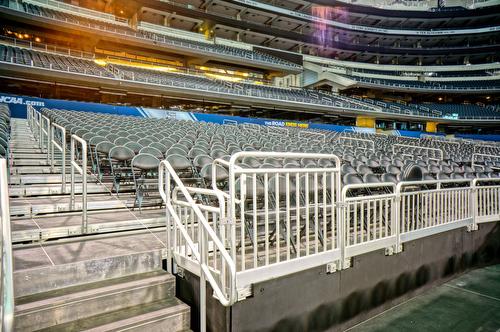 Sightline Elevates the NCAA Men's Final Four
Mar 30, 2023
The NCAA Men's Final Four Tournament is one of the most highly anticipated sporting events of the year. NRG Stadium in Houston, TX will be this year's Final Four host. This will be Houston's third time in the last 12 years hosting with Sightline Commercial Solutions' equipment.
We transformed the existing seating bowl by building sidelines and endzone risers. Sightline used over 4,000 SC90® platforms, 1,500 railings, and a variety of supports for this project. The basketball court sits on an array of nearly 400 platforms and is nearly 30" tall, elevating college basketball's top team to a brighter stage. Basketball fans had premium sightlines and an enhanced championship experience from any of the nearly 16,000 additional seats we added to the top of the platforms.
Sightline Commercial Solutions has been successfully providing the equipment for the NCAA's largest and most exciting tournament since 2008. Designing for an event like this takes our skilled engineers months of planning to ensure a flawless end production. Our innovative staging and seating solutions make highly anticipated events like this a massive success. We pride ourselves on providing the vital equipment for fans to safely access and enjoy once-in-a- lifetime experiences like this.
Want to learn more? Contact us to discover how we can support your next project.